Monday, November 29, 2010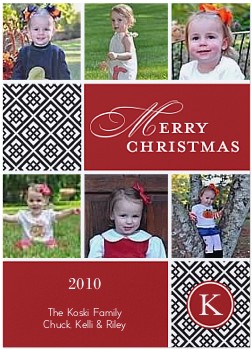 Diamond Flurries Christmas Card

Friday, November 12, 2010
Anyone who knows me knows that I love all things Christmas. One of my favorite Christmas traditions is the cards. I love, love, love the excitement those cards bring each day as I rush to the mailbox! I just love seeing my family and friends on their sweet cards, and I have a blast planning ours. We started sending out photo Christmas cards the first year we got married, using a picture from our wedding day. The next year, we had a picture of our first baby, Tyson the Pug, on our Christmas Card. Since Riley has been born we've used shutterfly for our cards, and I am just in love with the way they turn out each year! I usually begin planning in October. Shutterfly cards
http://www.shutterfly.com/cards-stationery/holiday-cards
are easy to design, and it shows you a proof immediately. They also offer great deals and make it quite affordable to have beautiful cards. Since we've had Riley I've also gotten into the habit of ordering photo calendars as gifts each year. Check out shutterfly's great cards and calendars!!
http://www.shutterfly.com/cards-stationery
. This year I am also going to try their canvas art
http://www.shutterfly.com/home-decor/canvas-wall-art
.
Can't wait to see your Christmas cards this year!
Bloggers get 50 free holiday cards from Shutterfly. Learn more:
http://bit.ly/sfly2010
Thursday, November 11, 2010
It seems like November just snuck up on us this year! Riley is just as sweet as ever and I am enjoying every minute with her! Pictures to come!